A Festive Fall Treat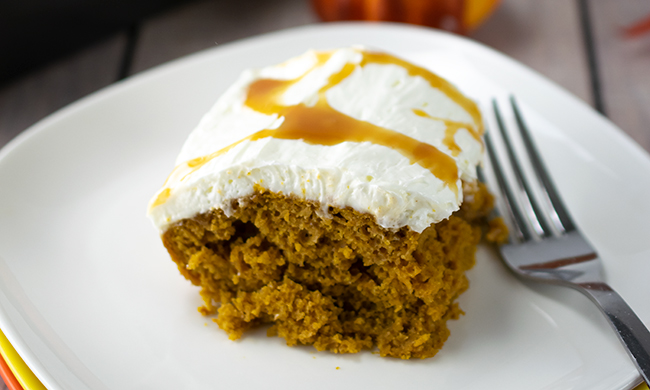 This ultimate fall dessert is filled with caramel sauce, topped with a fluffy cream cheese frosting and drizzled with even more caramel sauce. Family and friends can enjoy every morsel of this moist, autumn-themed cake.
Find more dessert recipes at Culinary.net.
Watch video to see how to make this recipe!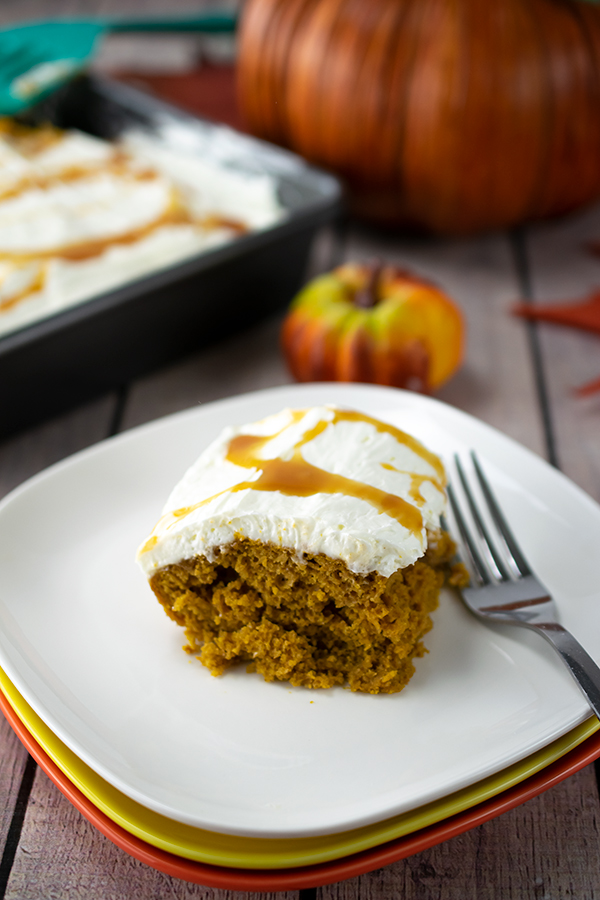 Pumpkin Caramel Spice Cake
Nonstick cooking spray
1          box spice cake mix
1          can (15 ounces) pumpkin
1          cup water
1/2       cup canola oil
3          eggs
1 1/2    cups caramel sauce, divided
1          package (8 ounces) cream cheese
2          tablespoons milk
1          cup powdered sugar
1          carton whipped topping
Heat oven to 350° F. Lightly spray 9-by-13-inch baking pan with nonstick cooking spray.
In bowl, mix cake mix, pumpkin, water, oil and eggs until smooth. Pour batter into prepared pan. Bake 30-33 minutes, or until toothpick inserted in middle of cake comes out clean.
While cake is hot, using end of wooden spoon, poke holes throughout top of cake. In microwave, heat 1 1/4 cups caramel sauce. Pour sauce into holes of cake. Let cool completely.
In bowl, mix cream cheese and milk. Gradually add powdered sugar while mixing. Mix until smooth. Fold whipped topping into mixture.
Spread frosting over cake, pressing frosting into holes of cake. Smooth out frosting.
Drizzle remaining caramel sauce over frosting. (Culinary.net)
Susan Brewer Service First Real Estate (636)936-8600